Co-Hosts Keli Wilson & Rosemary Cox sit down with Alexis Ronickher from Katz, Marshall & Banks, LLP, to discuss the #MeToo movement and its effect on employers. To listen to Episode 1, click play below.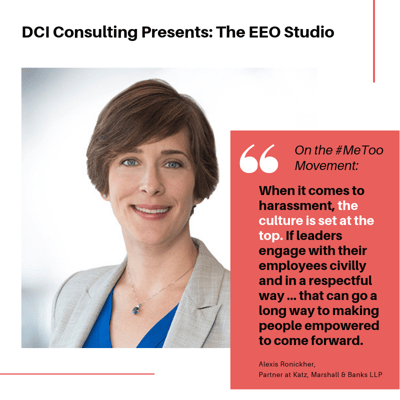 Alexis Ronickher is a partner with the whistleblower and employment law firm of Katz, Marshall & Banks, LLP, in Washington, D.C. She specializes in representing clients in sexual harassment and whistleblower cases, as well as other employment matters, including civil rights discrimination and retaliation and Title IX violations. In 2018, Law360 recognized Ms. Ronickher as a "Rising Star," just one of five employment lawyers nationally to earn this designation, and in 2017 and 2018 Super Lawyers recognized her as a "Rising Star" for Washington, D.C.
Ms. Ronickher has litigated cases nationwide in federal and state courts, as well as in administrative hearings. She represented a hair stylist in a sexual harassment and retaliation trial that resulted in a jury verdict of $2.3 million in favor of her client. In 2018, she represented whistleblowers in a successful qui tam lawsuit against a naval husbandry company for fraudulently billing the government that resulted in a $20 million settlement, and in 2014 she represented a whistleblower in a qui tam and retaliation lawsuit that resulted in a $10 million settlement. Ms. Ronickher has also represented numerous other employees and whistleblowers in cases that have successfully resolved confidentially prior to or during litigation.
<< Click here to listen to the Introductory Episode