As pay equity issues have gained traction in the media, it has become more important now than ever to have access to the most recent state and international pay equity laws. As part of our efforts to provide the most accurate and updated resources, DCI has created an interactive pay equity map resource that will provide you with the information you need to start addressing your organization's specific pay equity needs. These interactive maps will direct you to the specific state or international pay equity law that you need more information on.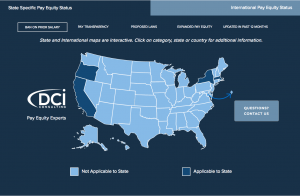 For more information on pay equity laws and what DCI can do to help you address them, we invite you to access the interactive map resources here: http://salaryequity.com/
Questions? Click here to contact us.