Co-hosts Keli Wilson and Rosemary Cox sit down with Debbie Curl-Nagy, Majority Owner & Managing Partner at Marcus Management Consultants, LLC, to discuss the importance of assessing and measuring civility in the workplace. To listen, click play below or click here to subscribe to The EEO Studio on iTunes.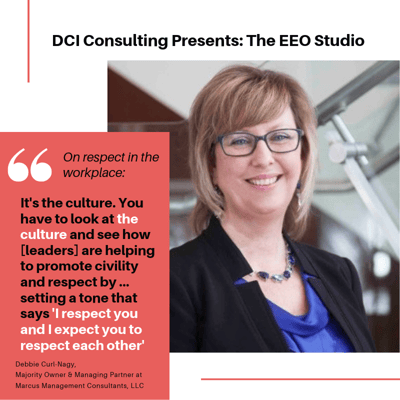 Debbie Curl-Nagy is majority owner and managing partner of Marcus Management Consultants, a boutique consulting firm specializing in evidence-based solutions that improve organizational health and effectiveness. With a focus on Workplace Civility, Leadership Development and Lean Six Sigma, Debbie helps companies to achieve desired outcomes through effective planning, facilitation, and group decision making.
Debbie brings a wealth of experience from her work in health care, education, public and non-profit organizations. She has provided Lean and Six Sigma training, coaching, and project facilitation to health care, education and social service organizations across the country. In her work with the Veterans Health Administration, Debbie has worked with Executive and Mid-level Managers to develop a Lean Management Infrastructure that transforms the organizational culture in order to promote, sustain and disseminate continuous improvement throughout the organization. She has also taught basic through advanced Lean and Six Sigma courses; and facilitated Kaizen events within public, nonprofit and private organizations. Most recently, Debbie has designed and delivered Workplace Civility Training to enable organizations to promote a culture of civility, respect and inclusion.
Debbie was previously employed as Director of Collaboration and Continuous Improvement for a national nonprofit organization providing consultation and technical assistance to community partnerships focused on improving urban education. She has worked in government as a state performance auditor and project manager to promote efficiency and effectiveness of public programs; has run programs and taught bachelor's and master's level courses in Social Work; and has worked in the non-profit sector providing crisis intervention and counseling services to children and families.